Top tips to enjoy your stay in Rotterdam during IFFR
For all the IFFR guests and visitors: we hope you have a wonderful time at IFFR and in our hometown Rotterdam! Fiona Festival is IFFR's film festival management platform. Just like IFFR, we are based in Rotterdam. Hereby, we want to share our favourite places in the city with you.
When you need a moment to get out of the cinema, go and have a bite or a drink at one of these hotspots:
Tai Wu – The IFFR Chinese Restaurant within walking distance from the Festival
DoDo Café – New grand café right next to De Doelen
Worm / Wunderbar / The Performance Bar – Check out the Sound//Vision IFFR program, have drinks at Wunderbar or be amazed at the avantgardistic Performance Bar.
De Ballentent – Have a beer or Captain's Dinner with the locals just along the quayside of the river. A nice combination with a walk in the Euromast Park.
Hotel New York – A classic grand café (try the Fruits de Mer) within walking distance from LantarenVenster.
You could also visit us at Fiona Headquarters and have a coffee. Feel free to pop in at the office when you are in the neighbourhood. You don't need to make a reservation, we are open daily (except weekends) from 9.00 am til 6.00 pm.
Enjoy your stay!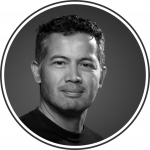 Written by Peter Goldman
Peter is co-founder of Fiona. He heads the design team and is responsible for marketing.